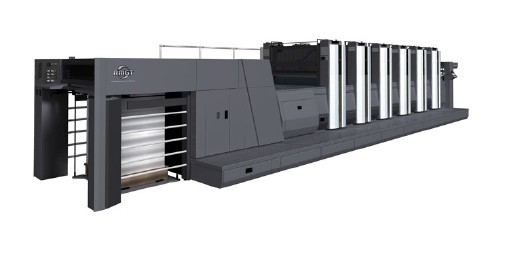 ANNOUNCING OUR NEWEST ADDITION-RMGT 940 LED UV PRESS
We have a strong equipment inventory. Since printing is considered a manufacturing business, our equipment choices have a major impact on how well our company can perform.
Now we have the FIRST RMGT 940 LED UV Printing Press in the NATION!
It's a state of the art printing press utilizing the latest and greatest technology ensuring color consistency over short or long runs with the highest level of quality and increased production speeds. This allows clients to get their projects completed in a fraction of the time vs. traditional offest printing processes.
Our philosophy of providing consistent, on-time delivery and the highest quality printed images is made possible by our job workflow systems, our talented team of coworkers, and our top-notch equipment.
Pressroom
---
RMGT LED UV PRINTING PRESS
HEIDELBERG OFFSET PRESSES
CANON DIGITAL PRESSES
RYOBI 2 COLOR PRESSES
OKI ENVELOPE PRESS
Bindery-Finishing
---
HEIDELBERG STITCHER
OFFLINE UV COATER
SABRE AND POLAR CUTTERS
GBC BINDING
SHRINK WRAPPERS